If you are looking for the best online marketing webinar that delivers content rather than only trying to sell you something you don't need, don't want or can't afford, look no further.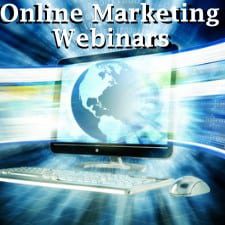 Since 2004 I have personally hosted or co-hosted well over 1,000 online marketing webinars. I am grateful for all the opportunities I have had to share my opinions, tips, tricks and expertise on the subjects that are most passionate to me regarding online marketing.
One the biggest reasons I enjoy participating and hosting webinars on online marketing is because I always feel that "The teacher learns the most". I appreciate being challenged by questions the listeners have that I would have never thought of myself.
The Infamous Sell-a-Thon Webinar
There is another thing I have learned about webinars that really irritates me… Almost 99% of online webinars have one intention… to sell you something. Not that I don't think the people hosting these webinars shouldn't be selling something for their time they have invested, but it is more about how they try to sell you and what they are not teaching you.
My Webinar Philosophy
For any webinar I ever produced, I always follow this rule of thumb. "Deliver valuable, understandable and usable information that anyone can understand". If I am going to sell anything, it is in the last 5 min of the webinar and it is never a hard sale. You will either see the value in it for you or you will not, it's that simple.
"The most important thing to me with any webinar that I participate in is that you get the education and training you need to be successful with your online marketing needs."
I have watched several webnars that do the complete opposite. They only deliver hype, have no content other than un-proven or over inflated statistics on "if you buy this product here is how much money you can make", and you end up with nothing but a wasted hour of your time or even worse, money out of pocket on a product or service that you will never use and/or doesn't work.
The Only Webinar Marketing Series I Promote
Over the last year, I have been asked by Jim Patterson, C.O.O. of Zilergy International to participate in several of his 9pm Wednesday night webinars on online marketing as a co-host. Watching what he has done and how his series has grown in popularity has totally impressed me.
It doesn't matter if you are just starting or a seasoned veteran (and that is one of the reasons Jim's webinars are gaining so many listeners). He is delivering 100% pure, fresh content that any online marketer will find valuable.
In all of his presentations he will provide you with links and downloads and in some cases even the entire PowerPoint or video of the entire webinar so you can watch it again at your own pace.
When I asked Jim, "What is your main objective for your online marketing webinars?" this is what he said; "To teach people the most effective ways to market absolutely anything online, and as a byproduct show them what an incredible value and product line Zilergy is!"
The Best Online Marketing Webinar is Right Here!
"This online webinar series will provide you with the most valuable, usable tips on Social Media Marketing, Search Engine Marketing and Search Engine Optimization or anything that has to do with marketing anything online." - Mike Barnes

If you are marketing anything online, all I am asking from you is this:
Join Jim this Wed at 9pm Eastern, (6pm Pacific)
The Best Online Marketing Webinar Ever!
Follow The Best Online Marketing Webinar on Google Plus to be notified of the Wednesday night Webinars!
You Can't Afford Not To Be On These Webinars!
Want to stay ahead of the competition and be up to date on what is working today in online marketing? You need to be on these online marketing webinars!
To Your Success!